Doesn't matter which kinda body shape you got a skinny or curvy, Chubby or athletic. Every girl has one thing in her wardrobe and its jeans. Every one of us can't go out for a day without wearing jeans. If you are in highly strict corporate then that's a different thing. But 95% of us spend their day wearing jeans.
And we will get bored while going out with the same out-fit on alternate days. Now you'll say "how will I get a new look if I have 3 pair of jeans with 6 t-shirts?"  You are right but if you have one pair of jeans and 1 t-shirt still you can get an impressive look only if you know how to wear it. so I'm here to guide you that way.
Jeans is a wardrobe that every woman has to own! There's nothing that jeans can't solve, whether you're thin or curvy. They're the direction to go, whether you want to build a relaxed, informal fashion or something chic and official. You can make the most of them all year round, making them an important investment. Whether you're a youthful university girl or a 60s-old female, a beautiful, cosy couple of jeans is a must-have. Some of us are not aware of the trends and brands which are going in the market. And they include different types of jeans. Skinny jeans, boyfriend jeans, mom jeans, cropped jeans.  
Ripped jeans:
I've written about many look which goes with the ripped jeans cause the ripped jeans is a staple of every wardrobe. It has a really good thing and it goes with anything. But today we will talk about some monochromatic look. So, you could try a woollen oversized sweat-shirt and slightly faded ripped jeans. Only jeans and sweatshirt isn't enough you should add-on some cool accessories. You can go out with a purse and put on your favourite shades. And don't forget to wear boots. 
Casual chic style: 
Do you have black jeans??  I assume your answer is YES!! The black is BAE you should go as a casual chic look. For this look, you should try a look which is a tee and black jeans. You just need a simple t-shirt, it would be great if you have a stripped one cause it could give you a wide shoulder look and would be more than great if it's oversized.  because an oversized tee will make you look cute. And for more cool look you should add on sneakers. 
Boyfriend jeans:
Boyfriend jeans are always a comfy option. Its wider to your thighs and gets tapered towards the ankles. Choose one straight leg jeans with a light shade. You could wear this one with the sweatshirt. And this sweatshirt could give you the look which is sizzling. And it looks great when you wear sneakers. 
Workplace jeans:
Some corporations are out-fit friendly and it really good for the people who want to wear jeans at their workplace. When you are allowed to wear the jeans at your workplace try'em with the black buttoned shirts and heel boots. it will give you kinda formal look and amazing look.
Maternity fashion: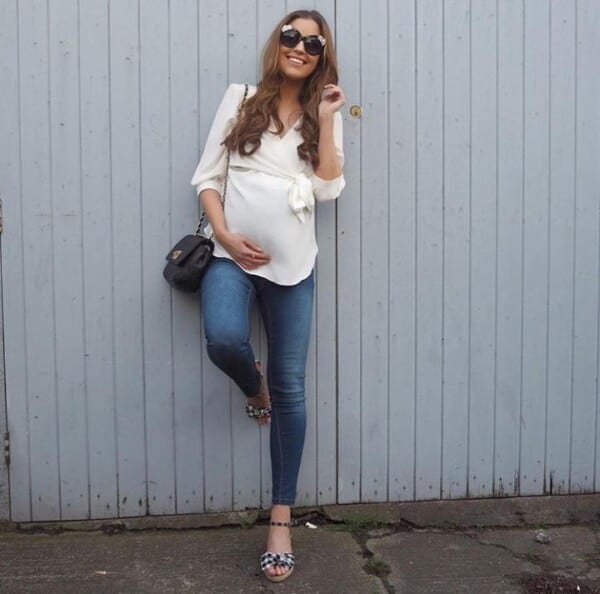 Who says that you couldn't look fashionable during your maternity period. You can wear a cute off white top and also a skinny jeans so you should try this jeans outfit and the mom-to-be will look really adorable in this.  
I hope this one will be helpful for you cause this one with common jeans and different outfit is really amazing. You should try out this looks on your five working or schooling days. Try them out and please let us know that howz it. Till then stay connected.